Talking Tripoli
January 1943
The 51st Highland Division moved along the cost with the New Zealand Division and 7th Armoured Division carrying out a flanking attack. Failure to succeed in occupying Tripoli would cause Montgomery to have to fall back.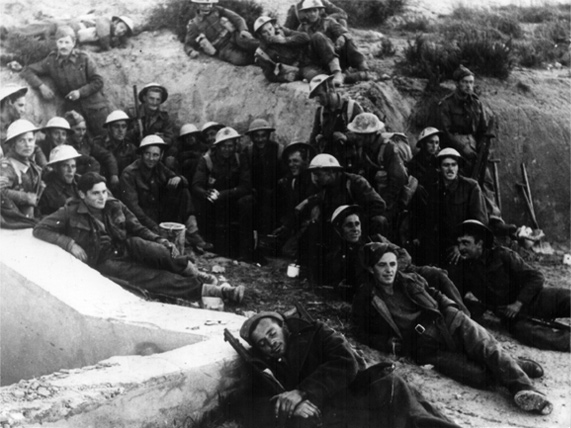 show info
Description:
A group half an hour after the Battle of Hons, January 1943.

Copyright:
Black Watch Museum
Tags:
An Outline of the Battle
On the night of 19th January, the 51st Highland Division pushing forward with 154 Brigade leading, passing Hons discovered at dawn the enemy in a defensive position four miles west. The enemy position was on a fort, which they nicknamed "Edinburgh Castle". Across its front was an anti tank ditch linking from the coast to the Wadi Zenadi in the south.
The Plan
In the plan for the Battle of the Hills General Wimberley determined to outflank the initial position. He decided to pushed 154 Brigade with 7th Argylls, 7th Black Watch, 2nd Seaforth, 40th Royal Tanks and a battery of 126 Field Regiment along the cost with orders to cut off the enemy retreat on the main road near Corradini, which was 14 miles on.
The Action
The outflanking formation lead by 7th Black Watch managed to negotiate their way over the anti tank ditch. However all vehicles and heavy weapons had to be left behind. They marched some 16 miles but by mistake came up just a mile short of their intended destination. Approaching the road they saw vehicles on it and opened fire, then realising they were British vehicles they ceased fire. The vehicles were British, but captured ones in enemy hands and they opened fire on the 7th Black Watch. They overran A company but were beaten back and retreated west.
The 2nd Seaforth assaulted a feature "El Nab" from the flank while elements of 5th Seaforth, who had come up the axis of the road, assaulted the same feature from the front. 5th Seaforth were part of "Hammerforce" under command of Brigadier Richards, Commander 23 Armoured Brigade. This force, consisting of one company of 2nd Seaforth, "A" company of 1/7th Middlesex, a squadron of tanks, a battery of field artillery and some engineers, was tasked with exploiting rapidly down the main road once the Edinburgh Castle feature was taken.
The next day, on the 21st January, "Hammerforce" continued on through the 5th Seaforth objective making for Castleverde. Having had to cope with major enemy demolitions along the way they arrived on the morning of the 22nd January.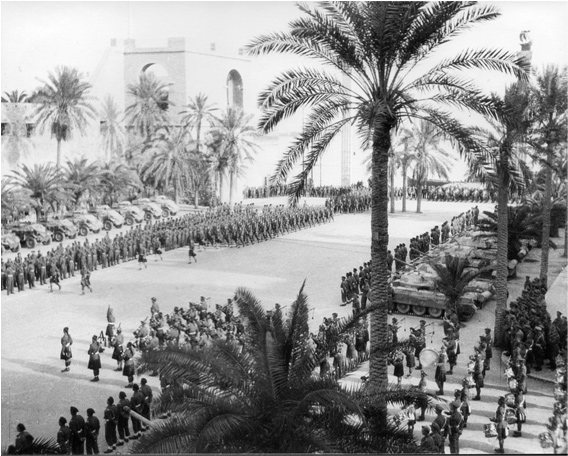 show info
Description:
Victory parade by 7th Black Watch after Tripoli was captured on the morning of 23rd january 1943.

Copyright:
Black Watch Museum
Tags:
Entering Tripoli
On the morning of 23rd January 1st Gordons, riding on the tanks of 40th Royal Tank Regiment, and a company of 2nd Seaforth in lorries, entered Tripoli which had been abandoned by the enemy.