The Mareth Line
March 1943
The Mareth line was formed at the narrow point between the coast and the Matmata hills.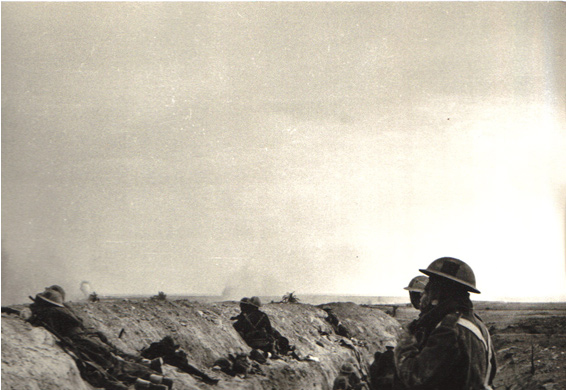 show info
Description:
5th Seaforth in the anti-tank ditch near Mareth.

Copyright:
Trustees the Highlanders Museum
Tags:
The Plan
The Division was to conduct a preliminary operation to attack a two German forts names Ksibia and Zarat. At the same time 201 Guards Brigade were to attack a position called the "Horseshoe" which comprised a ring of small hills to the southwest of the Mareth line. Once this was done the 50th Division would break through the line, and establish a bridgehead through which the 4th Indian Division would exploit, supported by 51st Highland Division. While this was taking place the New Zealand Division and 7th Armoured Division would conduct a left flanking manoeuvre, through the Matmata Hills into the Gabes Gap, which would later be the area of the battle of Wadi Akarit.
In front of the Mareth position was a plain. The Wadi Melah was in the centre and between it and the Mareth line was the Wadi Zeuss. Immediately before the defensive position was the Wadi Zigzaoug joined by an anti tank ditch.
The Action
There was some preliminary action against the Mareth Line. 153 Brigade was one of three probing attacks on the night of the 16/17th March.
A minefield gap was found and 5/7th Gordons pushed through. By first light they were still in the minefield and behind schedule, but by 0900hrs they were on their two objectives.
Throughout the 18th and 19th the Brigade was under heavy artillery fire.
On the night of 20th March the 50th Division attacked but a strong counterattack retook most of their objectives, casualties were very heavy and they failed to secure the bridgehead. To support them the 51st Highland division was ordered to send two battalions to hold a sector of the Zigzaoug anti tank ditch. The 5th Camerons and 5th Seaforth found themselves pinned down in the Wadi and caught in tremendous fire. When they were withdrawn, under cover of smoke, at 0300hrs on 24th March they had suffered very heavy losses.
Meanwhile, the attack of the 50th Division having failed, Montgomery reinforced his left flanking hook, leaving the Highland Division, the Guards and 23rd Armoured Brigades to fix the front of the Mareth Line. Rommel in turn removed the 21st Panzer Armoured Division to meet this threat.
On the 25th March the 5th Black Watch supported by 5/7th Gordons carried out successful attacks.
On the 28th the 7th Argylls found the Mareth lines abandoned and moved across the Wadi Zigzaou and the following day continued the advance towards Gabes. The Division arrived as the New Zealanders, leading the left hook, were also arriving.