Tactical Numbers & Colours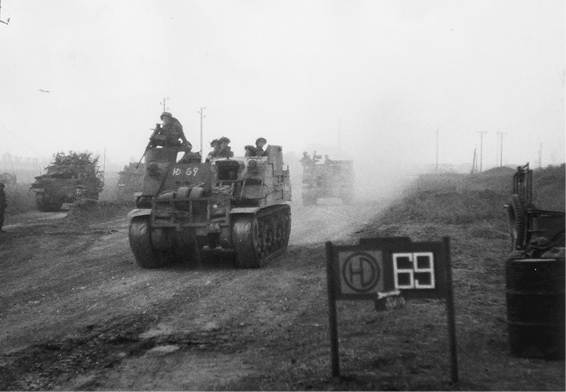 show info
Description:
On the night of 23rd March 1945 men of the three Black Watch battalions in the 51st Highland Division were ferried across the Rhine under cover of artillery barrage and a massive smoke screen. They are seen here moving forward in 'Kangaroos'. The HD 69 signifies the 7th Battalion. Little opposition was met before they were established on the far bank. The credit for being the first British troops across the Rhine fell to this battalion. The term 'Kangaroo' was applied to converted tanks and gun platforms like the hulls of Shermans and Priests which were converted into infantry armoured personal carries from Normandy onwards.

Copyright:
Queens Own Highlanders Museum
Tags:
Tactical Numbers and colours were painted onto vehicles, signs and flags to distinguish the units and formations.
| Unit | No. | Colour/Flag/Sign |
| --- | --- | --- |
| HQ 51 (H) Div | 40 | Black |
| | | |
| HQ R.A | 40 | Red-Blue (Headquarters Royal Artillery) |
| 120 Fd Regt | 42 | Red-Blue (126 Field Regiment Royal Artillery) |
| 127 Fd Regt | 43 | Red-Blue |
| 128 Fd Regt | 44 | Red-Blue |
| 61 A/Tk Regt | 46 | Red-Blue (61 Anti-tank Regiment Royal Artillery) |
| 49 L.A.A Regt | 47 | Red-Blue (49 Light Anti-aircraft Regiment Royal Artillery) |
| | | |
| H.Q.R.E | 40 | Blue (Headquarters Royal Engineers) |
| 239 Fd.Pk.Coy | 48 | Blue (Field Park Company Royal Engineers) |
| 274 Fd.Coy | 49 | Blue (Field Company Royal Engineers) |
| 275 Fd.Coy | 50 | Blue |
| 276 Fd.Coy | 51 | Blue |
| | | |
| DIV SIGs | 40 | White-Blue (Divisional Signals) |
| | | |
| H.Q. 152 Bde | 81 | Scarlet (Headquarters 152 Brigade) |
| 2 Seaforth | 56 | Scarlet (2nd Battalion Seaforth Highlanders) |
| 5 Seaforth | 57 | Scarlet (5th Battalion Seaforth Highlanders) |
| 5 Camerons | 58 | Scarlet (5th Battalion Cameron Highlanders) |
| | | |
| H.Q. 153 Bde | 87 | Green (Headquarters 153 Brigade) |
| 5 Black Watch | 60 | Green (5th Battalion The Black Watch) |
| 1 Gordons | 61 | Green (1st Battalion Gordon Highlanders) |
| 5.7 Gordons | 62 | Green (5th/7th Battalion Gordon Highlanders) |
| | | |
| H.Q. 154 Bde | 94 | Brown (Headquarters 154 Brigade) |
| 1 Black Watch | 67 | Brown (1st Battalion The Black Watch) |
| 7 Black Watch | 69 | Brown (7th Battalion The Black Watch) |
| 7 Argyll & S.H | 68 | Brown (7th Battalion Argyll and Sutherland Highlanders) |
| 1/7 Middlesex | 64 | Black (1st/7th Battalion Middlesex Regiment) |
| | | |
| H.Q. RASC | 40 | Red-Green (Headquarters Royal Army service Corps) |
| 525 RASC Coy (152) | 70 | Red-Green (525 Company RASC with 152 Brigade) |
| 526 RASC Coy (153) | 71 | Red-Green |
| 527 RASC Coy (154) | 72 | Red-Green |
| 458 Div. Tps Coy RASC | 73 | Red-Green (Divisional Transport Company) |
| | | |
| H.Q. RAMC | 40 | Black (Headquarters Royal Army Medical Corps) |
| 174 Fd.Amb | 75 | Black (Field Ambulance) |
| 175 Fd.Amb | 76 | Black |
| 176 Fd.Amb | 77 | Black |
| 29 Fd. Hyg. Sec | 78 | Black (Field Hygiene Section) |
| | | |
| A.D.O.S. HQ & DUM | 40 | Black (Army Depot Ordnance Supplies) |
| | | |
| H.Q. REME | 40 | Black (Headquarters Royal Electrical and Mechanical Engineers) |
| 152 Bde W'Shops | 88 | Blue-Yellow–Red (152 Brigade Workshops) |
| 153 Bde W'Shops | 89 | Blue-Yellow-Red |
| 154 Bde W'Shops | 90 | Blue-Yellow-Red |
| | | |
| Provost Company | 79 | Black (Military Police) |
| | | |
| Postal Unit | 80 | Black |
| | | |
| 13 Fd. Sec. Sec | 40 | Black (Field Security Section) |
| | | |
| 2. D.Y. | 41 | Green-Blue (2nd Derbyshire Yeomanry) |
| AFFILIATIONS | 152 BDE | 153 BDE | 154 BDE | DIV RES TPS |
| --- | --- | --- | --- | --- |
| Sqns 2 D.Y. | A | B | C | |
| Fd.Regts RA | 128 | 127 | 126 | |
| Fd Coys RE | 275 | 276 | 274 | |
| Coys 1/7 Mx | D | C | B | A |
| Btys 61 A/Tk. Regt | 243 | 242 | 241 | 193 |
| Fd.Amb | 174 | 175 | 176 | |
| RASC Coys | 525 | 526 | 527 | 458 |
| Btys 40 LAA Regt | 140 | 105 | 268 | |