The Landing at Normandy
5th - 10th June 1944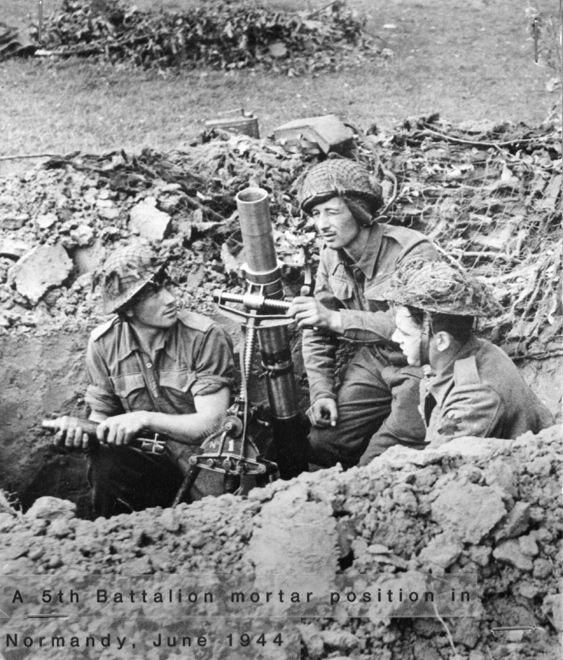 show info
Description:
5th Black Watch mortar position in Normandy, June 1944

Copyright:
Black Watch Museum
Tags:
The details of the plan for Overlord are well documented elsewhere but in outline it was as to invade the Normandy coast from the Carentan estuary to just east of the mouth of the River Orne.
The Plan
There landings would be from right to left, the US Airborne Division on the right, then the 1st US Army (VII and V Corps), the British 2nd Army (30th Corps right and 1st corps left) and the British 6th Airborne Division in the Ornnemouth, Caen and Cabourg triangle.
The Role of 51st Highland Division
The role of the 51st Highland Division in the landing was as a second echelon division to support and fill in behind the first wave. 153 Bde would be the lead brigade of 51st Highland Division. They landed in the afternoon of D Day. 152 Brigade followed on D+1 and 154 Brigade on D+4. the latter remained as Corps Reserve until placed temporarily under command of 6th Airborne Division.
On 5th June (D-1), Commander 153 Brigade, with the Battalion Seconds in Command, had gone to Portsmouth where they would sail ahead of the main body to mark the out the Brigadedeployment. However their ship was unable to land and on D daythe main body sailed passed them near enough for Murray to shout to Lieutenant Colonel Thompson, in temporary command of the Brigade, that he on landing he should contact the Canadians. They landed without opposition on the afternoon of D Day.
The Divisional Commander landed on the 7th June. 152 Brigade arrived in the morning of D+1 also without their Brigade Commander and advance party as did 154 Brigade on D+4.
Extract (table) taken from Operation Order No. 1 - Overlord (The Normandy Landing, June 1944)
read more
PIOBAIREACHD was the name given to the 51st Highland Division newsletter which was produced from 14 June 1944.
read more