Battle of the Somme, High wood
22nd July – 7the August 1916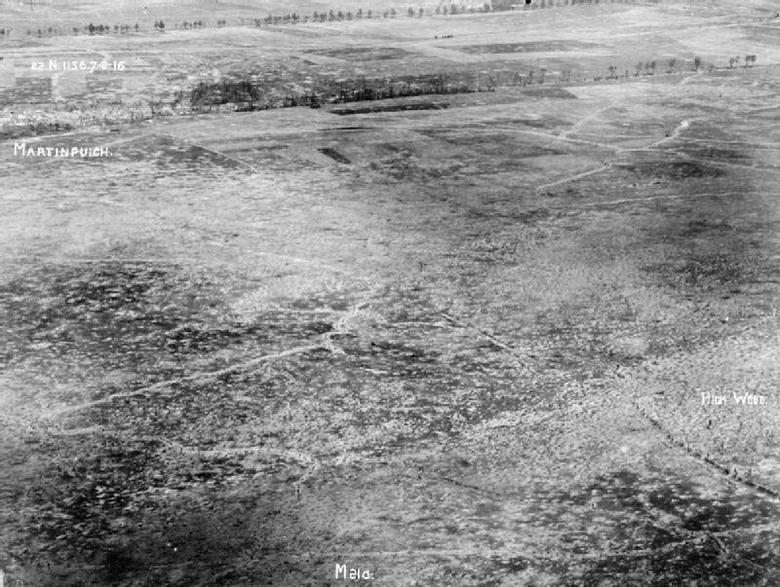 show info
Description:
Aerial photograph looking north towards Martinpuich, showing High Wood (right) during Battle of the Somme. The trenches and scares from artillery shelling litter the landscape.

Copyright:
IWM - Q61359
Tags:
During the Battle of the Somme, High wood had been taken by 7th Dragoon Guards and Deccan Horse but part had subsequently been retaken by the Germans. The division was ordered into the line on 21 July that evening. With less than twenty four hours to prepare, on 22 July the Division was ordered to attack High Wood
The line of communication in that part of the line ran through a valley ironically called "Happy Valley". This was the subject during the daylight hours of the most vigorous and near continuous barrage by the Germans.
By 3 a.m on 22 July 154 Brigade had taken its place in the line. There had been little by way of handover nd the bombardment of Happy Valley came as an unpleasant surprise. It was only afterwards they became aware of many protective dugouts that would have saved lives.
The first attack on High Wood was carried out by 154 Brigade. The supporting barrage was ineffective and the attack was defeated with heavy losses.
Extract from the Diary of Pte. MacPherson, 9th Royal Scots, 154 Brigade. This personal account provides details the Attack on High Wood, between 21st & 22nd July 1916. Please note - this unedited account contains descriptions of scenes that some readers may find distressing.

read more
A second attempt on 30 July gained some ground but was forced back by the ferocious bombardment.
Description of the 2nd attack on High wood on 30th July 1916 by Capt. RR Ross, Gordon Highlanders.

read more
The Division was relieved on 7 August with more than half of High Wood occupied by the Division but a redoubt in the eastern corner that had proved so formidable remained in German hands.
Quoting from 'The History of The Fifty First (Highland) Division 1914-1918' by Major FW Bewsher DSO, MC:
"So ended the first offensive operations in which the Division had been employed as a whole unit. The results had been disappointing and dispiriting to all. Over 3500 casualties, including 150 officers, had been sustained. In two fruitless attempts to carry a German position which remained intact, in spite of many attacks by successive Divisions, until 15 September. The Germans had shown that High Wood could not be taken hurriedly by a frontal attack.

"Three months later General Harper was able to show that the much stronger position of Beaumont Hamel could be stormed frontally after careful preparation and with adequate artillery support.

"High Wood was finally overcome by a mine, which shattered the redoubt, and by tanks, which on this occasion were employed for the first time in the Great War."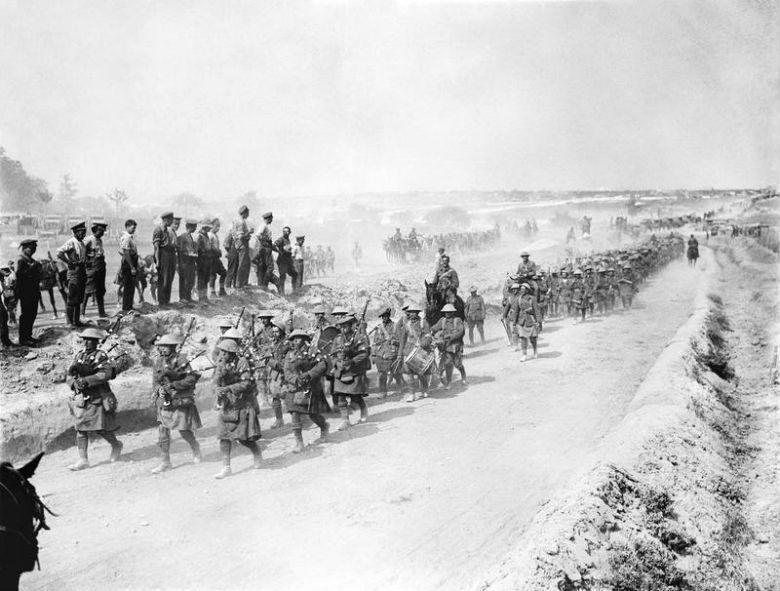 show info
Description:
Photograph showing the Black Watch marching back along the Fricourt-Albert road led by pipers. Aug '16

Copyright:
IWM (Q 4089)
Tags: