Preparation for Op. Huskey
July 1943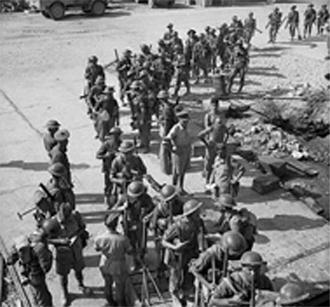 show info
Description:
Men of 5th Battalion, Seaforth Highlanders arrive at Sousse Harbour prior to embarkation to Sicily and the start of Operation Huskey.

Copyright:
IWM - NA 4074
Tags:
The Division was quartered in Djidjelli on the Algerian coast. Preparation for Operation Huskey was conducted against a background of secrecy with deception plans suggesting that, among others, Crete was the next destination. It was however clear that the next operation would be a combined operation and the Royal Navy played an important part in the training.
Familiarisation with a range of landing crafts and the terminology and procedures for amphibious operations took much of the time. Lectures and battalion level training commenced while the Division was reinforced and brought back up to strength. The training involved to three brigade exercises and then a Divisional landing exercise. The Division was then moved to Sousse and Sfax.
The division embarked for Malta on 5th July and disembarked on the 6th at Valetta where the Division moved into three camps. Montgomery visited and spoke to the Division on the 7th.
The stay in Malta was however short and the Division embarked on the 9th July for the invasion of Sicily.
The GOC who was already embarked sent the following message:
"Now we are called upon once more to enter Europe. As the time approaches to go forward into battle never must we forget that we of this division helped by our English comrades , are ever the proud bearers of the ancient motto (Scotland For Ever) and in bearing it we carry with us Scotland's renown, Scotland's fair name and Scotland's prayers"
Division structure for Operation Huskey (Sicily, July 1943)
read more