after Sferro
Sicily, Aug-Sep 1943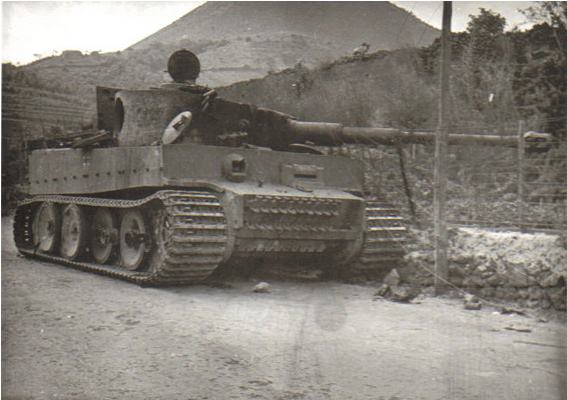 show info
Description:
A knocked out Tiger Tank with Mount. Etna in the background.

Copyright:
Trustees The Highlanders Museum
Tags:
The Division now took up a role supporting 78th Division and taking a crossing over the Simeto River. 154 Brigade provided flank protection for 78th Division who were to attack Adrano on the night of the 6/7th August. The 7th Argylls and 1st Black Watch were tasked with forcing and securing the crossing over the Simento River on the 5th August. The operation was a success with relatively few casualties. 152 Brigade took Biancavilla the next day.
On 17th August, the US 3rd Division entered Messina at 10am, just 50 minutes before the arrival of the British Army. 154 Brigade were close behind taking over from 3rd US Division on the 20th August. The Brigade subsequently crossed the straights of Messina on 5th September to secure Reggio and the aerodrome before retuning to Sicily on 8th September.
Retuning to 153 Brigade, they had provided flank protection to 78th Division. Despite being held in readiness they were not required in the taking of Adrano, which fell on 7th August. The Brigade now took over a sector of 5th Division on the southeast side of Mount Etna. From here they moved to Milo and on to Linguaglossa and then Castiglione.
152 Brigade were in reserve and once the action stopped they moved to Biancavilla and on to Pisano.
Once the campaign was won the Division immediately started training and this included revisiting the ground of Gerbini and Sferro on a battlefield tour to learn the lessons.