8th BATTALION THE ROYAL SCOTS (THE ROYAL REGIMENT) (8RS)
A brief History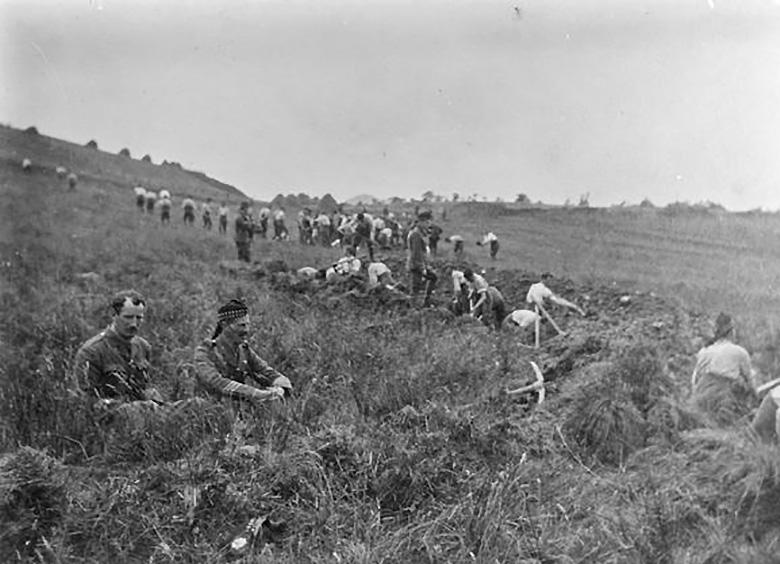 show info
Description:
8th Royal Scots at work digging trenches as Capt. G. Suttie and Major Brook observe. Circa Autumn, 1914.

Copyright:
IWM Q51872
Tags:
The 8th Battalion, The Royal Scots, was a Territorial Force (TF) battalion recruiting from Haddingtonshire (now East Lothian), Peeblesshire and Midlothian. It had just returned from Annual Camp in 1914 when War was declared. It mobilised at Haddington as part of the Lothian Coast Defence Brigade. Brought up to War Establishment with 200 members of 8HLI [8th (Lanark) Highland Light Infantry] it was the first Scottish-based TF unit to land in France, on 5 November 1914, and, judged to be one of only three TF units fit to deploy immediately, moved into the front line as part of 7th Division on 12 November. The Battalion fought as conventional infantry with 7 Division until July 1915 including at Neuve Chapelle, Second Ypres in April 1915 and at Festubert where L/Cpl William Angus, 8HLI attached, won the VC . On27 July the Battalion, with many former miners and other tradesmen in its ranks, was withdrawn to retrain as a pioneer battalion.
On completion of its training, and now wearing a second, distinctive, collar badge of a crossed rifle and pick-axe, 8RS joined 51st Highland Division as its Pioneer Battalion in which role they served until the end of the War, taking part in all their actions from The Somme to the advance to Cambrai in October 1918, ending the war at Estrun. Although perhaps not the most 'glamorous' of roles, the Battalion did not have the 'rest periods' of the conventional battalions rotating through the trench lines. It was always in or near the front line improving routes, digging reserve trench lines, wiring, constructing headquarters bunkers and strong points and assisting mining operations. Casualties, although not as dramatic as in some actions involving particular units, were high and continuous. In the latter phases of the War the Battalion reverted increasingly to its primary role as infantry, particularly during the German advance in 1918.
The Battalion remained in Belgium until March 1919 when reduced to cadre strength and disbanded the following month in Haddington.
show info
Description:
Capt. G. Suttie and Lieut. Col. H. Brook mounted on horses in front of men of the 8th Battalion Royal Scots at camp, circa 1914.

Copyright:
IWM Q51995
Tags: