The Plan for Operation Veritable
Reichswald, 8th February 1945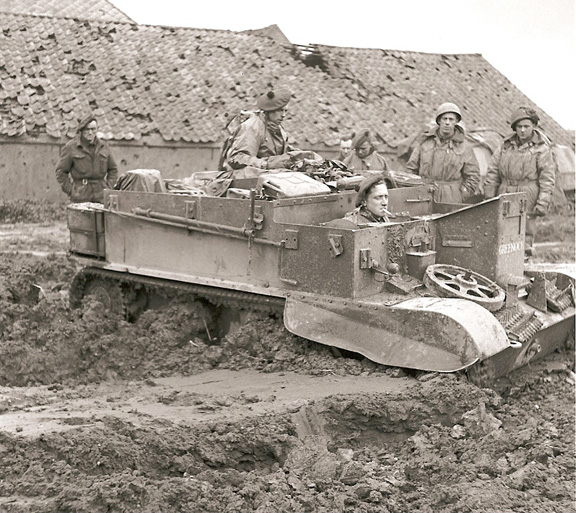 show info
Description:
Even tracked vehicles find it hard going and have to be dug out. 154 Brigade between Brunhard and German border. Sgt Silverside 10 February 1945

Copyright:
IWM - B 14419
Tags:
Op Veritable was the code name for the allied operation to drive the Germans from the ground between the River Maas and the River Rhine. The Canadians and British would break out from the Nijmegen bridgehead clearing southeast down between the two rivers to link up with the US forces who would cross the Maas to the south and swing north.
The Ground
There had been heavy rains in December and the River Maas and the River Rhine had both flooded and the ground between the two was very wet. If the weather remained cold then the ground would be frosted and hard but if there was thaw then the going would be very difficult.
There were three defensive lines to overcome, firstly anti-tank ditches and fortified farms, then after a mile or more, several miles of open ground and the defensive Siegfried line which ran south through the Reichswald forest to the town of Goch.
The Overall Plan
30 Corps would lead the Canadian attack and as the front expanded the Canadian 2nd Corps would come in on the left of 30 Corps. The 30 Corps. attacking force comprised six infantry divisions, two armoured divisions and three armoured brigades. The initial advance would be five divisions up; 3rd Canadian on the left then 2nd Canadian, 15th Scottish, 53rd Welsh and 51st Highland on the right.
The Divisional Plan
Because of the narrow frontage allocated to the Division, it was decided to initiate the attack with only one brigade (154 Brigade) up, however the Brigade was strengthen by giving it 5/7th Gordons from 153 Brigade. 152 Brigade were to follow 154 Brigade, while 153 Brigade were to clear the western corner of the Reichswald and cut the Mook-Gennap road.
The preliminary bombardment commended at 0500hrs on the 8th February and the leading elements of the Division crossed the start line at 1046 hrs.
Operation Order No. 12 (Operation 'Veritable') listed in full - dated 4th February 1945 (Reichswald)
read more