9th BATTALION ROYAL SCOTS (THE ROYAL REGIMENT) (9RS)
A brief History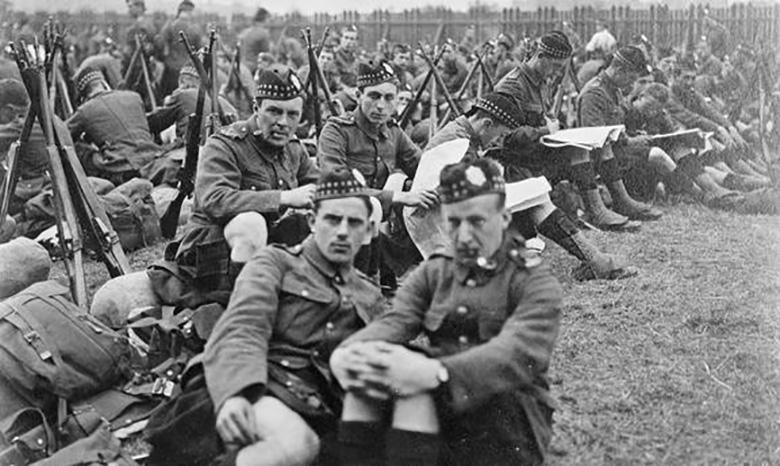 show info
Description:
9th RS at rest in Leith nr. Edinburgh, 1914.

Copyright:
IWM Q51870
Tags:
The 9th Battalion, The Royal Scots, was raised in 1900, as a Highland battalion within the Scottish Capital similar to The London Scottish, in response to the early reverses of the Boer War. It adopted the Hunting Stewart tartan and, other than Royal Scots pattern badges etc, followed the Highland dress pattern of The Gordon Highlanders. Its dress, compared to other battalions of the Regiment quickly earned it the nickname of 'The Dandy Ninth'. Its Drill Hall was in East Claremont Street at the east end of Edinburgh's New Town.
Mobilised on 4 August 1914 as part of the Lothian Coast Defence Brigade it deployed to France in late February 1915 joining the 27th Division with whom it took part in Second Ypres, alongside the 1st Battalion, losing over 200 casualties. RS transferred to the 5th Division in late November 1915 and then to 154 Brigade of 51st Highland Division on 1 March 1916 remaining with them until February 1918. Their baptism of fire with the Division came on The Somme with the attack on High Wood on 23 July. Their next major involvement was the Battle of Arras in April-May 1917 where 9RS, on 9 April, were initially the right assault battalion tasked to capture the first line of German trenches at the south end of Vimy Ridge. They achieved their objective after a stiff fight. Later they were heavily involved in the Scarpe and Roeux battles. Before leaving the 51st Division the Battalion took part in Third Ypres and the operations at Bourlou Wood and Cambrai.
On 6 February 1918, 9RS, along with 5th Gordons and 8th A&SH, formed 183 Brigade of 61 Division. With them they fought to first stem, then halt, the German spring offensive. Finally the Battalion moved, on 1 June, to 15 (Scottish) Division for the advance to victory, ending the War at Tournai in Belgium. It disbanded on 29 July 1919.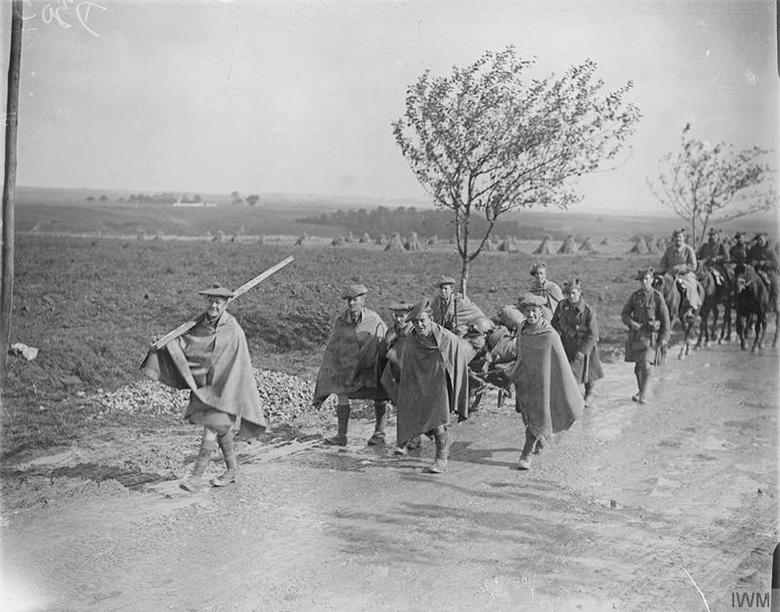 show info
Description:
Men of the 9th Battalion, Royal Scots marching in waterproofs. Amiens-Albert road, September 1916.

Copyright:
IWM Q4263
Tags: