Normandy
November 1943 - July 1944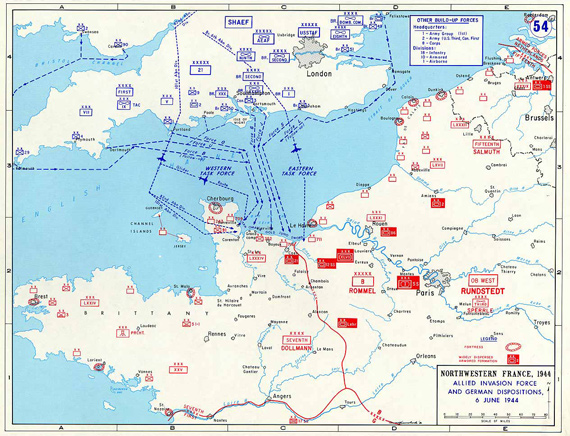 show info
Description:
Map showing the Allied invasion force and German dispositions. Operation Overlord. Dated 6th June 1944

Copyright:
US Department of Defense
Tags:
Preparation

Nov 1943 - June 1944
The 51st Highland Division returned to Britain in November 1943 and after leave settled down to training. In March they moved to East Anglia and on 5th April 1944 transferred from 30th Corps to 1st Corps and commenced training for the invasion of main land Europe Operation OVERLORD. In June they moved to the River Thames and embarked.
The Order of Battle of the three infantry brigades remained largely unchanged:
152 Brigade commanded by Brigadier AJH Cassels consisted of 2nd and 5th Seaforths and 5th Camerons
153 Brigade was commanded by Brigadier "Nap" Murray with 5th Black Watch, 1st and 5/7th Gordons
154 Brigade was now commanded by Brigadier James Oliver (formerly Commanding Officer of 7th Black Watch) with 1st and 7th Black Watch and 7th Argylls
In addition the 2nd Derbyshire Yeomanry replaced the Highland Recognisance Regiment.
The 51st Highland Division landing took place to the west of the Ornnemouth in the 1st Corps area and crossed the River Orne. The operations in the following weeks were some of the worst the Division had experienced.

read more
The Division operated to the east of the Orne and north east of Caen centred on an area known as the Triangle. An attack on 11th July on Colombelles, was unsuccessful. However on the 18th July, in Operation Goodwood, the Divison performed well.

read more
Conclusion
Although Operation Goodwood had gone well for the Division, restoring in part the its confidence and reputation, the previous failures had left their mark. The Divisional Commander, Major General Bullen-Smith, was replaced. The new commander was Major General T G Rennie, previously a commander of 154 Brigade.
Whereas the Division had been very at home with 30 Corps in North Africa and Sicily, they did not enjoy their time with the 1st Corps in Normandy and felt that the Corps was in part responsible for the problems they had encountered. They were therefore not disappointed to be reassigned to the Canadian Corps for what was to follow.
Operation Totalise (The Breakout) would commence at the end of July.