Arrival in Egypt
August 1942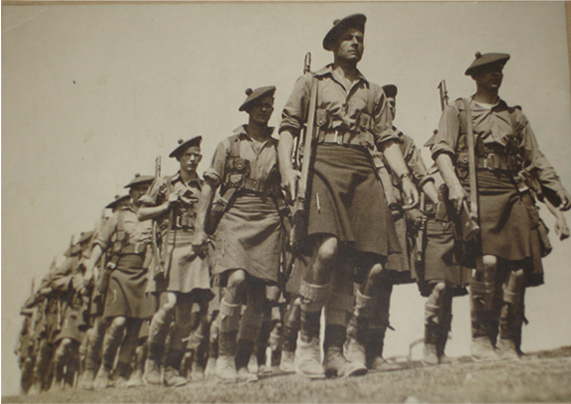 show info
Description:
Men of the 7th Argyll & Sutherland Highlanders on the march

Copyright:
Argyll & Sutherland Highlanders Museum
Tags:
In June 1942 the 51st Highland Division moved by train to a variety of ports, and embarked for an unknown destination. They moved around Africa leaving Durban on the 16th July and disembarked on 14th August 1942 at the entrance to the Suez Canal at Port Tewfik.
In late August the Division moved into the Nile delta through Khatatba. Here they took up positions to defend the western approaches to Cairo with 152 Brigade on the Mena-Cairo road, 153 Brigade south of Mena and 154 Brigade west of Cairo covering the Nile barrage. At this time the enemy were no more than 50 miles west in the area of El Alamein and to its south.
They did not have long to wait - Rommel commenced his attack on the night of 30th August. The 8th Army weathered the storm and by 7th September the Battle for Alam Halfa, Rommel's main objective, was over. The 51st Highland Division has not been directly involved with the enemy attack and done little other than take part of the western edge of the minefield.
The initiative, and the decision when and how to counter attack, was with Montgomery.