VIZZINI and FRANCOFONTE
Sicily, 13th - 15th July 1943
On 13 July the Division was south of Vizzini and Francofonte.
show info
Description:
A Tank in a Francofonte street, July 1943.

Tags:
FRANCOFONTE
On the right 152 Brigade, with 5th Seaforth leading, approached Francofonte. The village was situated on the top of a hill with the approach covered with terraces of olive groves and the road leading up to the village through a tight hairpin overlooked by a cemetery.
THE ACTION
The lead carrier was struck by a round from a German 88mm and fire was opened from the cemetery. The 88mm then withdrew but as the Seaforths advanced to the hairpin they came under sustained fire from the defenders who came from the 2nd German Parachute Regiment. The action continued throughout the day with no progress being made. The next morning the decision was made to pull them back to road.
The enemy position was then subjected to a heavy artillery bombardment after which the 2nd Seaforth were pushed through the 5th Seaforth. The battle became a close quarter action with hand-to-hand fighting in the village. In particular a building named ?the Red House? proved very stubborn. It was decided to assault it in moonlight but the Germans withdrew and Francofonte was occupied.
The infantry were supported by "C" Squadron of the 23rd Armoured Brigade and by the night of 14th July only one tank was still in action. The 5th Camerons had followed the 2nd Seaforths and were also involved in the action and, on the 15th, exploited toward Scordia.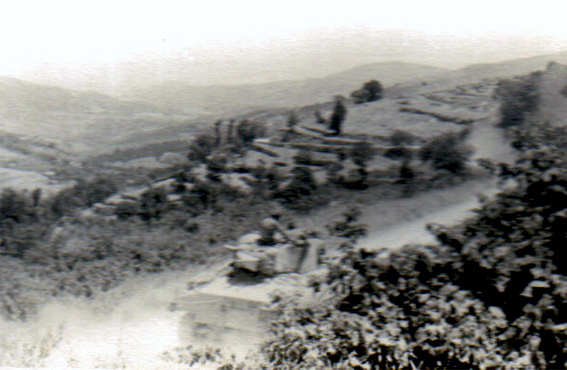 show info
Description:
This picture, although poor quality, gives a good impression of the terrain

Copyright:
Trustees The Highlanders Museum
Tags:
VIZZINI
While 152 Brigade were engaged on the 14th at Francofonte, 153 Brigade were preparing to attack Viccini. 231 Malta Independent Brigade had tried unsuccessfully to take the well defended town, which sat 2000 feet above sea level and dominating the southern approaches.
The Action
153 Brigade attack consisted of the 5th Black Watch, coming from the south with the 1st Gordons on their right. It was the hottest day so far and there was little water. The scale of the highs, terraced with orange groves, provided a formidable obstacle. 5th Black Watch, with US troops supporting their left flank, managed to get into and secure the west of the town.
The route by which the 1st Gordons assaulted was if anything even more difficult and amounted to a knife edge running up into the town, with vines and orchards on the terraces. They too had two companies in the town by 9pm and had occupied the cathedral tower and cemetery.
Tragically 154 Brigade, which had moved up to attack through the Canadians, took friendly artillery fire resulting in 30 casualties among 1st Black Watch.
An artillery bombardment of the right hand side of the town prior to an assault the next morning convinced the enemy to abandon their position and the 1st Gordons found many prisoners and abandoned stores.
Aftermath
The Division continued the advance occupying Scordia on the 15th July