Tank attack, 1500-1520 hrs, June 11th 1940
from the Journal of Captain Taylor, Intelligence Officer 1 Gordons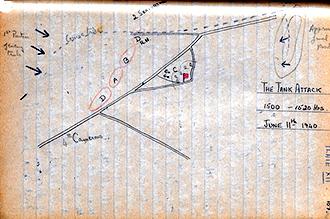 Supporting Information :
Description:
Sketch map by Capt. Taylor, Intelligence Office 1 Gordons, showing the Tank attack at St. Valery, 1500-1520 hrs, June 11th 1940

High Resolution Image:
Tags:
Personal Account / Extract References :
An extract from the War Diary of Capt. J.P.P. Taylor, the Intelligence Officer of the 1st Battalion, Gordon Highlands. Covers the period June 11th and 12th 1940 at St. Valery.
read more