Operation Orders No.149
1/6th Black Watch, Beaumont Hamel, 13 Nov 1916
The following Operations Order for the attack by 1/6th Battalion, The Black Watch, at Beaumont Hamel comes from the archives of the Black Watch Museum. The documents are too fragile and in places indistinct to scan so they have been retyped here for you to more easily read. A photograph of one page and the map have also been included.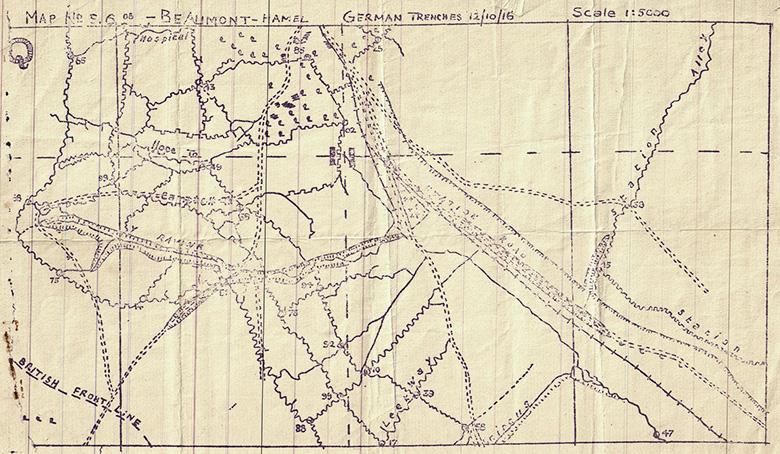 show info
Description:
This photograph shows the reference map of German trench positions and objectives described in Operation Orders No. 149 for the attack by 1/6th Battalion, Black Watch, on Beaumont Hamel, 13 November 1916. The original is held at the Black Watch Museum.

Credit:
Black Watch Museum
High Resolution Image:
Tags:
Operation Orders

By Lieut-Colonel J.Wylie Commanding 1/6th Battn. The Black Watch
Reference Map - BEAUMONT HAMEL 1/5,000
1. The Battalion will attack the German trenches S.W. of BEAUMONT HAMEL on Z day. Date and zero hour will be notified later.
2. OBJECTIVE for the Battalion. Bank marked with double blue line on attached sketch between Q.11.b.s.1. and Q.11.b.s.7. The 7th Gordon Hrs. Will attack on our immediate right and the 102nd Brigade on our immediate left.
3. FORMING UP PLACE.
British front line trench between NORTH VALLEY and BROADWAY. The whole Battalion will be formed up there by 02.30 a.m. on the morning of Z day. "A" and "C" Coys. On the right, "B" and "D" Coys. on the left.
4. METHOD OF ATTACK.
The battalion will attack in four waves, each wave having a distinct objective and being responsible for the taking and cleaning up of the portion of the enemy line allotted to it and bombing up the communication trenches towards the next line.
During the advance touch must be kept with troops on right and left. If gaps occur bombing parties will at once be sent out to establish touch.
Each Coy. will advance on a two platoon front.
"A" Coy, on right, "C" Coy. following.
"B" Coy, on left, "D" Coy. Following.

1st Wave.
2 platoons "A" Coy - Enemy's front trench and ravine.
2 platoons "B" Coy - Enemy's front trench.

2nd Wave.
2 platoons "A" Coy - Enemy's second trench.
2 platoons "B" Coy - - do -

3rd Wave.
2 platoons "C" Coy - Enemy's third trench.
2 platoons "D" Coy - - do -

4th Wave.
2 platoons "C" Coy - Enemy's fourth trench and bank beyond it.
2 platoons "D" Coy - - do -


Each wave will advance across the open and will not go into any trench, except its own particular objective.
The Guiding Principle will be that an intense barrage will move forward in front of the infantry at the rate of 100 yards for 4 minutes. It is essential that all troops follow close up to the barrage as it creeps, and immediately assault any part of hostile trenches from which barrage has lifted.
(Artillery Scheme attached)
As each trench is cleared each wave will move into the trench in front of it, and follow up until the first objective of the Battn. is reached. There the Battalion will assemble and reorganize under order of the senior officer present, and will dig themselves in.
The 5th Gordon Highlanders will occupy the First German trenches immediately our fourth wave has passed over it.
When the objective of this Battalion has been reached two Coys. of the 5th Gordon Hrs. will pass through and continue the advance.
5. BRIDGES.
Each wave on reaching its objective will pull up trench boards and place them across the top of the trench to form bridges for the succeeding waves.
6. TANKS.
Tanks will take part in the action, but will start in rear of the leading Battalions. In the event of the advance being held up at any place by an strong point, or other serious obstacle, the assistance of a tank will be called for by signalling "Enemy in sight".
7. PRISONERS.
Prisoners will be escorted back to 5th Gordon Hrs. but no further and escorts will at once region their Coys.
8. REPORTS.
Reports will be sent by telephone , visual signalling or runner at frequent intervals to Battn.Hdqrs. at LIMERICK JUNCTION.
9. LEWIS GUNS.
Two Lewis Guns will go forward with the leading wave of each Coy. and will follow on with the second wave of each Coy. (less one gun of "A" Coy., which will take up a position commanding the Y ravine from the West end.
The two reserve guns will follow the 3rd wave and take up a position in the third line.
10. SIGNALLERS.
The Signalling Sergeant will arrange for a double station party to go forward with the first wave and establish a telephone and visual station in the German front line.
A line will also be run out from Battn,Hdqrs. to our own front line.
11. SCOUTS.
Scout officer will be at selected observation post and will keep sight scouts with him as runners to report progress to Battn.Hdqrs.
Two scouts will be with each Coy. Commander to assit in bringing back information.
12. FLARES.
On receiving call from Contact Aeroplans (by Klaxon Horn or White Rocket) but not before, flares will be lighted in the bottom of trenches gained. If flares are nota t hand waterproof sheets will be waved.
13. EQUIPMENT AND CLOTHING.
Rifle and Bayonet and 180 rounds S.A A.
Greatcots with skirts looped up.
Equipment (battle order) worn over greatcoat.
The haversack should contain nothing but one complete day's ration and emergency ration.
Waterproof sheets under flap of haversack.
Tin disk attached to haversack.
Mess Tin.
Two sandbags tucked into belt.
Spare pair of socks in greatcoat pocket.
Four bombs in coat pockets (These will be issued at forming up place.)
Tools. Every alternate man will carry a tool, in proportion of one pick to two shovels.

14. WATER.
All ranks must use the water in their bottles very sparingly as supplies will be difficult to get.
15. SMOKE BOMBS.
Five smoke bombs per platoon will be drawn from forward dumps (in our front line) for clearing dugouts. These will be carried and used by experienced bombers.
16. WIRE CUTTING.
Men carrying wire cutters will have white tapes on their right shoulder strap. If they become casualties the wire cutters will be taken forward by succeeding waves.
17. VERY LIGHTS.
Each N.C.O. will carry two Very light cartridges.
18. RESPIRATORS.
From 12 noon Y day all ranks will wear respirators at the Gas Alert position, whatever the direction of wind.
19. UP & DOWN TRENCHES.
Down.
HAYMARKET
BROADWAY

Up.
TIPPERARY
CLONNEL

Neutral.
NORTH ALLEY & CARLISLE

20. REGIMENTAL AID POST.
THURLES DUMP.
R.B.ELLIS. Captain
Adjutant, 1/6th Battn. The Black Watch

NOTE: annotated in pencil is the distribution. This copy, No6, is down as Specialists.
Instructions relating to Operations Order, issued (12th Nov 1916) for the attack by 1/6th Battalion, Black Watch, at Beaumont Hamel 13th Nov. including the attached Fire Plan time table.
read more
Division History References :
A description of the battle of Ancre in November 1916 which, for the 51st Highland Division, will be remembered as the Battle of Beaumont Hamel.
read more