Major General Fortune with General Major Rommel
12th June 1940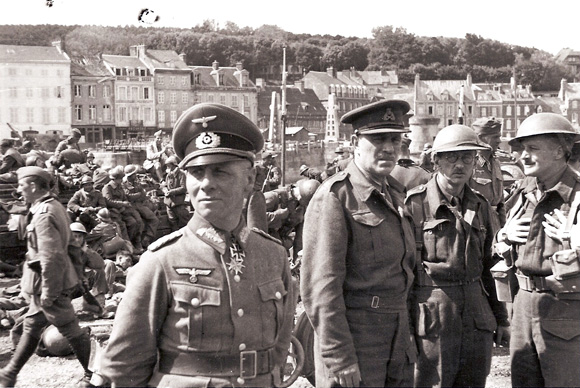 Supporting Information :
Description:
Major General V M Fortune, GOC [General Commanding Officer] 51st Highland Division (right), with General Major Erwin Rommel at St. Valéry after the surrender of the 51st Division to Rommel's 7th Panzer Division (12th June 1940)

Copyright:
IWM RML 342
Tags:
Division History References :
An introduction to the history of the 51st Highland Division.
read more
General Fortune considered all the options, a counter attack, further resistance, retaking the town but against this there was no possibility of evacuation or support, the men were exhausted and virtually out of ammunition, with no artillery ammunition at all. Shortly before 1000hrs on the 12th June General fortune took the most difficult of decisions - to surrender...
read more