Underground HQ, Gennep
14 February 1945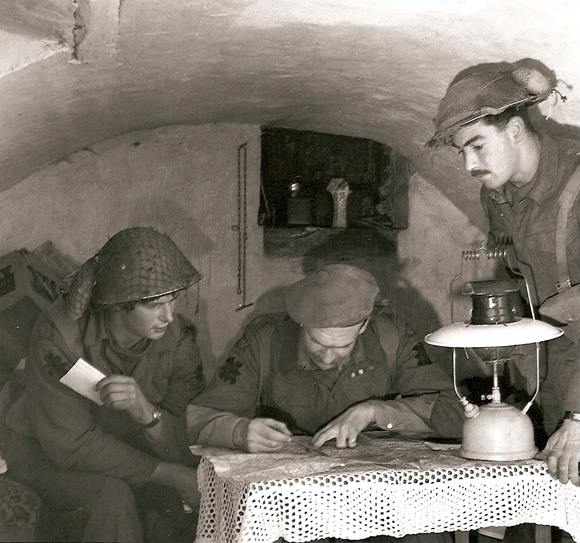 Supporting Information :
Description:
"Life for the most part is underground in Gennep. The Germans are still making the town, which was a key place in their water defence line, an unhealthy place to live in, and shell it regularly. 'C' Company Commandeer, Major GA Pilcher MC of GOWS, Invergowerie, nr Dundee (centre) utilises one of the German built cellars as his HQ. With him is his 2nd in command, Captain AL Campbell of 9 Woodburn square, Douglas, Isle of Man (right) and 13 Pl Commander, Lt D P Smyth of 38 Herriot Row, Edinburgh. C Coy, 5 Black Watch, 153 Brigade" - Words and Photograph by Sgt Silverside, 14th February 1945.

Copyright:
IWM - B 14622
Tags:
Personal Account / Extract References :
John McGregor's account of the attack on Goch (Reichswald) by 5th Black Watch on the 18th February 1945 - taken from "The Spirit of Angus" by John McGregor.
read more