Black Watch, Fricourt-Albert Road
August 1916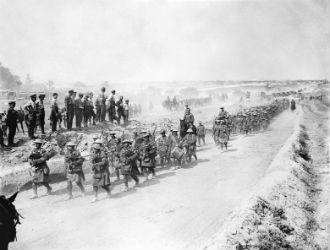 Supporting Information :
Description:
Photograph showing the Black Watch marching back along the Fricourt-Albert road led by pipers. Aug '16

Copyright:
IWM (Q 4089)
Tags:
Division History References :
During the Battle of the Somme, High wood had been taken by 7th Dragoon Guards and Deccan Horse but part had subsequently been retaken by the Germans. The division was ordered into the line on 21 July that evening. With less than twenty four hours to prepare, on 22 July 1916 the Division was ordered to attack High Wood...
read more