7th Argylls, Battle of S. Quentin
March 1918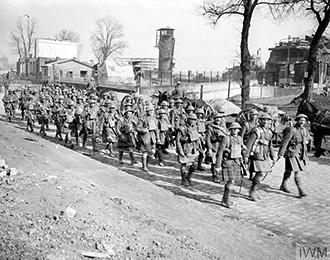 Supporting Information :
Description:
Battle of St. Quentin. No.8 Platoon, B Coy of the 7th Argyll and Sutherland Highlanders retiring along the Cambrai road near Beaumetz. Limbers of the 25th Division passing in the back ground. By kind permission of the IWM.

Copyright:
IWM. Q8953
Tags:
Division History References :
During the afternoon of 20th March a scout of the Black Watch, lying out in No Man's Land, observed between 6000 and 7000 men, not wearing their packs, enter the enemy's trenches. It was therefore evident that the enemy was assembling for the attack.
read more