3rd Ypres Attack Plan
June 1917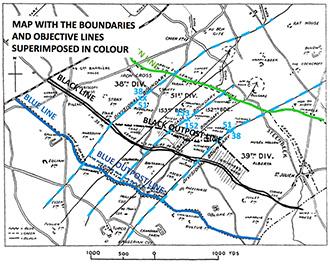 Supporting Information :
Description:
A copy of the sketch map showing positions and attack plan for 3rd Ypres, June 1917. Colour overlay has been applied to help illustrate the objectives.

Tags:
Division History References :
The Third Ypres, also know as Passchendaele, was fought between 31 July to 10 November 1917. The 51st Highland Division was involved in two of the battles in the earlier stages; the Battle of Pilkem (Passchendaele) opened 31 July and Poelcappelle 20 September 1917.
read more