British Tanks fitted with Fascines
In preparation for Battle of Cambrai, Nov 1917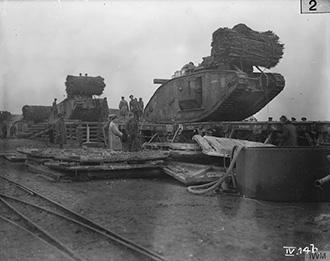 Supporting Information :
Description:
British Mark IV Female Tanks at Plateau Station, November 1917, aboard flat-bed railway carriages prior to transportation to forward area before the Battle of Cambrai. Each Tank is fitted with a 'Fascine', a large bundle of brushwood used to aid the crossing of open trenches.

Copyright:
IWM (Q 46932)
Tags:
Division History References :
Description of the 51st Highland Division at the Battle of Cambrai, 20th November 1917.
read more