Pilckem Ridge
31st July 1917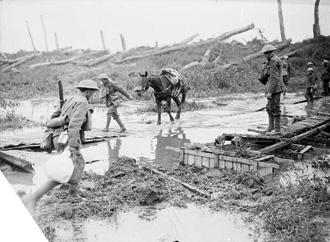 Supporting Information :
Description:
Photograph taken 31st July 1917 during the Battle of Pilckem Ridge : Crossing the Yser Canal at Boesinghe.

Copyright:
IWM Q 2365
Tags:
Division History References :
The Third Ypres, also know as Passchendaele, was fought between 31 July to 10 November 1917. The 51st Highland Division was involved in two of the battles in the earlier stages; the Battle of Pilkem (Passchendaele) opened 31 July and Poelcappelle 20 September 1917.
read more
Personal Account / Extract References :
Sgt. Edwards, 1/6th Seaforth Highlanders, awarded the Victoria Cross for conspicuous bravery in attack during 31st July & 1st August 1917, North of Ypres, Belgium.
read more