Officers of B Company, 2 Seaforth Highlanders
N. West Europe c. 1944-45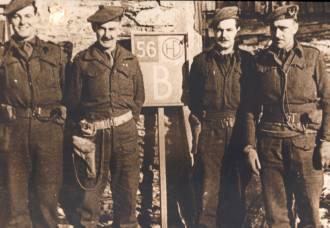 Supporting Information :
Description:
This photograph was received from Allan Macintyre, the son of the late Major Donald Macintyre MC.
The photo captures Officers of B Company, 2 Seaforth Highlanders, thought to have been taken in North West Europe c. 1944-45 by Lt.Col Andrews.
From left to right - Lt. Andrew Donaldson [Ft.William], Major Donald Macintyre MC, Lt George Roark, Captain Charles A Manning [CanLoan Officer, Halifax Nova Scotia].

Tags:
Personal Account / Extract References :
An extract from the 2nd Bn. The Seaforth Highlanders' War Diary covering 18/19 Feb 1945 during the final stages of Operation Veritable and the Attack on Goch.
read more