152 Brig. Command Car, Chateaux Piedboeuf
Dec '44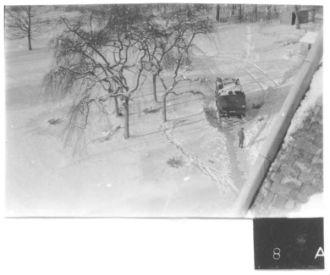 Supporting Information :
Description:
Four small craters left in the snow from 'near misses' can be seen around a Command Car. Photo taken by B.R. van Wullften Palthe, an interpreter attached to 152 Brig. who was staying at Chateaux Piedboeuf ("Castle Embourg") which was used as 152 Brig. HQ during the winter of 1944.

Credit:
B. van Wullften Palthe
Tags:
Division History References :
Scanned document kindly sent to us by Georges Laloux in December 2009 showing Officers from 152nd Infantry Brigade H.Q. [Seaforth Highlanders] who stayed in "Embourg Castle" during December 1944 and the Ardennes Campaign.
read more