B.R. van Wulfften Palthe & Son, Ric
On Leave, Eindhoven, Nov 1944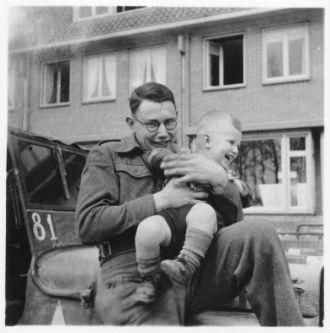 Supporting Information :
Description:
Photograph of Bert R. van Wulfften Palthe on leave from Corps. Tolken, visiting his family in Eindhoven. Believed to have been taken in Nov '44 by Bert's Wife as another photo from this same occasion reads "In November, me too in service, for the first time on leave at home".

Credit:
B. van Wullften Palthe
Tags:
Division History References :
Scanned document kindly sent to us by Georges Laloux in December 2009 showing Officers from 152nd Infantry Brigade H.Q. [Seaforth Highlanders] who stayed in "Embourg Castle" during December 1944 and the Ardennes Campaign.
read more