6th Seaforth, Battle of the Scarpe
29 August 1918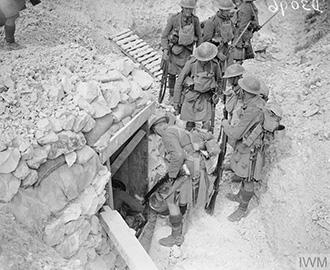 Supporting Information :
Description:
Capture of the Greenland Hill by the 51st Division. Daylight patrol of the 6th Battalion, Seaforth Highlanders working forward towards Hausa and Delbar Woods. North-east of Roeux, 29 August 1918. Troops firing into a dug-out in a deserted German trench to dislodge any remaining Germans. By kind permission of the IWM. Q7112.

Credit:
IWM Q7112
Tags:
Division History References :
In early August 1918 the 51st Highland Division was recuperating having returned to XVII Corps from Champagne and the Battle of the Marne and was once again in familiar ground north west of Arras.
read more