Men of 6th BW resting on the road back to St. Imoges
25 July 1918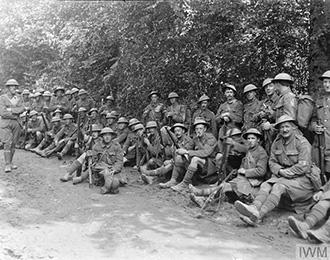 Supporting Information :
Description:
Men of the 6th Black Watch resting by the roadside on the way back to St. Imoges after the capture of the Bois de l'Aulnay, 25 July 1918, Battle of Tardenois. By kind permission of the IWM.

Copyright:
IWM. Q11094.
Tags:
Division History References :
On the morning of 14 July 1918, before the first troops of the 15th, 34th, 51st, and 62nd British Divisions had reached their destination, the Germans launched an offensive on a front of 80km east and south-west of Rheims, crossing the Marne.
read more