Officers of the 5th Camerons
Fleri, Sicily, 19 Aug 1943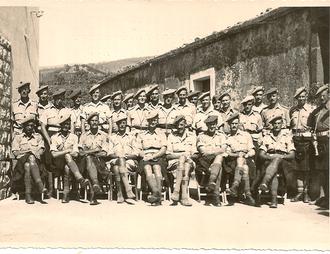 Supporting Information :
Description:
Officers of the 5th Camerons, Fleri (Sicily), 19 Aug 1943. General Wimberley is the forth from right in the front row of the above picture of the Officers of the 5th Camerons, taken on the 19th August 1943 at Fleri, Sicily.
The full list of those present in the photograph is shown on the History page detailing Major General Wimberley's Departure from the 51st Highland Division.

Tags:
Division History References :
Major General Wimberley, affectionately know as "Tartan Tam" for his determination that the Division would wear the kilt, had commanded the Division from its England through North Africa and Sicily. On his departure he published the following farewell messages to his Jocks...
read more