4th CAMERONS ATTACK AT HUCHENNEVILLE
4th June 1940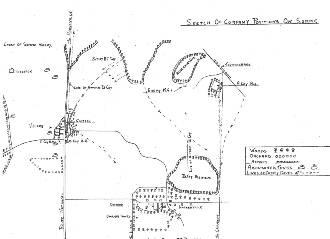 Supporting Information :
Description:
Sketch map showing the line of attack and positions of 4th Cameron Coys. during the attack at Huchenneville on 4th June 1940. A version of this original sketch is recreated within "Churchill's Sacrifice". This original sketch is in a manuscript account in an exercise book written in a prisoner of war camp. The book does not say who the author was but there is a loose letter in it to Major W A Macleay, 4th Battalion Q.O. Cameron Highlanders, commending a L/Cpl for his actions on the Somme on 4/5th June and it is assumed that Major Macleay was the author of the diary and map.

High Resolution Image:
Tags:
Personal Account / Extract References :
Extracts from "Churchill's Sacrifice of the Highland Division" by Saul David relating to the 4th Cameron Highlanders Attack at Huchenneville on 4th June 1940.
read more