Cease Fire
11th Nov 1918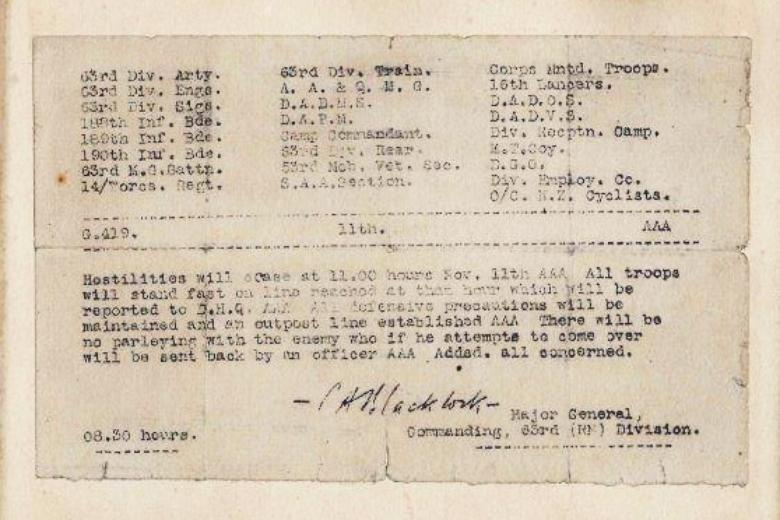 show info
Description:
Document from Major-General C.A. Blacklock 63rd (Royal Naval) Division, issued at 0830 hrs on 11th November 1918, signalling the end of WW1.
Kindly shared with the us by Mr Ian Campbell who's Father, Archibald Blair Campbell, served with the 8th Argylls. Campbell is believed to have been bequeathed the document by his Commanding Officer, Colonel Colin McLeod Robertson.

Credit:
Mr Ian Campbell
Tags:
A Mr Ian Campbell has offered a most remarkable document for use on the website. His father was Archibald Blair Campbell.  Quoting from Mr Campbell's letter -
"He (his father) came from Campbelltown, and signed up in the 51st HD (8th Argylls?) as a lad of 16 or 17 in order, as he once told me, "to see the world".  Sadly, the world that it was his fate to see was that of the horrors of battle in Belgium and the trenches of the Somme.  He attained the rank of Major.  In the latter stages of the war, his Commanding Officer was Colonel Colin McLeod Robertson, from whom, as I understand matters, the document was bequeathed to my father upon the death of the Colonel.  I cannot vouch for the accuracy of that assumption.  Both survived the war, my father dying in 1975, aged 80. 

It would be an honour to have the Document placed on the 51st HD website.  If you do decide to use it in this way, may I respectfully request that it be so placed in memory of my father, whose name you have above."

The Document is placed here as requested, in memory of Ian's father Archibald Blair Campbell, and if I may add, all those who served in the Great War.
The Document is actually that from the 63rd Royal Naval Division which had severed earlier in the year alongside the 51st Highland Division. It is, one assumes, a standard signal sent to all divisions. One cannot help but reflect on the brevity of such a significant message.
The message reads :
Hostilities will cease at 11.00 hours Nov. 11th AAA All Troops will stand fast on line reached at that hour which will be reported to J.H.Q. AAA All offensive precautions will be maintained and an output line established AAA There will be no parleying with the enemy who if he attempts to come over will be sent back by an officer AAA Added. All concerned.

08.30 hours - [signed] Major General C.A. Blacklock
Major General, Commanding 63rd (RN) Division.

Division History References :
A brief outline of 51st (Highland) Division in the First World War 1914 - 1919
read more