Newspaper clipping telling of Hugh Robertson's M.C.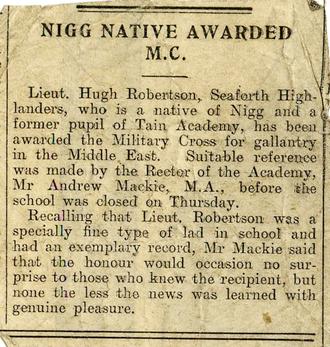 Supporting Information :
Description:
This newspaper clipping was kept by Hugh Robertson's Mother. Linda McLean (Hugh's Daughter) recalls that she kept it as Hugh had not believed that he had been awarded the M.C. and thought she had become confused whilst he was overseas.
The date of print and original publication are unknown.

Tags:
Personal Account / Extract References :
Major Hugh Robertson's Daughter, Linda McLean, very kindly sent us a few photographs of her Father after reading about him within Alastair Borthwick's account of the 5th Seaforth's "Attack on Groin" in which Hugh features in his role as O.C. "C" Company.
read more