Armistice Signal
11th Nov 1918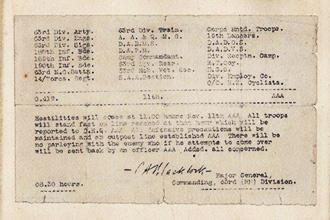 Supporting Information :
Description:
Document from Major-General C.A. Blacklock 63rd (Royal Naval) Division, issued at 0830 hrs on 11th November 1918, signalling the end of WW1.
Kindly shared with the us by Mr Ian Campbell who's Father, Archibald Blair Campbell, served with the 8th Argylls. Campbell is believed to have been bequeathed the document by his Commanding Officer, Colonel Colin McLeod Robertson.

Credit:
Mr Ian Campbell
Tags:
Personal Account / Extract References :
Document from Major-General C.A. Blacklock 63rd (Royal Naval) Division, issued at 08.30 hrs on 11th November 1918, instructing the cease fire form 11.00 hours that would become the end of WW1
read more