Memorial Inscription
Sferro, Sicily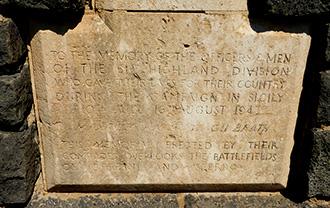 Supporting Information :
Description:
The inscription on the memorial at Sferro is badly worth but appears to read :
"To the memory of the Officers & Men of the 51st Highland Division who gave their lives for their country during the campaign in Sicily 10th July - 16th August 1943 - Axailh An Alba Gu Brath- This memorial, erected by their comrades, overlooks the battlefields of Gerbini and Sferro."

High Resolution Image:
Tags:
Division History References :
Memorial to the 51st Highland Division at Sferro Hill, Sicily. 4th November 1943, on Sferro Hill, in the presence of representatives of the 51st Highland Division this stone Celtic Cross was unveiled. A service entitled "51st Highland Division - Dedication of Memorial" was held. The total casualties of the Division in the campaign had been 124 Officers and 1312 other ranks.
read more